About the Point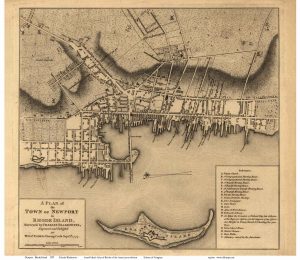 Nicolas Easton, a founder of Newport, first settled in the Point in the 17th century. Easton's heirs divided the property into lots in 1725 and sold parcels to many of  Newport's early tradesmen and merchants.
The growth and changes in the Point may be seen in the maps contained in the Newport Map Project.  Starting with the 18th century grid of the Point to the construction of the Cliborne Pell Newport Bridge in the 1960s.  http://newportmapproject.weebly.com
Thanks to the restoration efforts of Operation Clapboard, The Newport Restoration Foundation and The Preservation Society of Newport County, the Point has the largest collection of Colonial Homes in the world. As you walk through the Point you will see different plaques that tell the story of these restorations.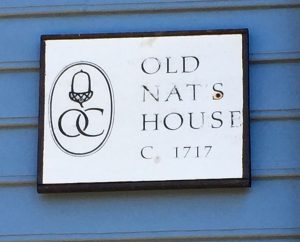 Houses with a plaque that has an acorn and an OC on them were restored by Operation Clapboard a grassroots effort which was founded by Point Association members.  Operation Clapboard saved over 80 houses in the 1960's and 1970's.  Click here to view a list of Operation Clapboard Houses compiled by Salve Regina students in 2012.   Hear more about Operation Clapboard from Robert Foley on our Oral Histories page.  Newport Historical Society also has an excellent collection of photos of Operation Clapboard – click here to view an index of what they have. Contact them directly to arrange to see the collection.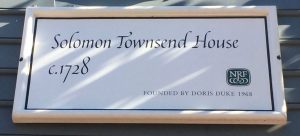 Houses with "NRF" on their plaque were restored by The Newport Restoration Foundation (NRF) which was created in 1968 by Doris Duke. NRF restored and owns 27 colonials homes in the Point. http://www.newportrestoration.org/sup/files/walking_map-point.pdf
The Point is also home to Hunter House, one of the finest Georgian Colonial Architecture houses. Concerned that the fine interiors of the Hunter House would be purchased and removed from the building, a small group of concerned citizens led by Mrs. George Henry Warren initiated a preservation effort, purchasing the house in 1945 and forming The Preservation Society of Newport County. http://www.newportmansions.org/explore/hunter-house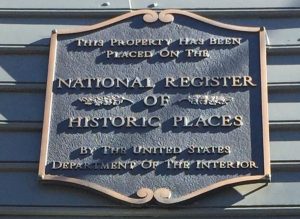 The Point is part of the Historic District a National Historic Landmark by the United States Department of the Interior National Park Service National Register of Historic Landmarks Newport Historic District (Designated November 24, 1968, boundary revision and updated documentation approved October 6, 2008.)  Houses that have a bronze plaque indicating National Register status have been recognized by The National Register of Historic Places.  http://www.preservation.ri.gov/pdfs_zips_downloads/national_pdfs/newport/newp_newport-hd.pdf
The Point Association and Senator Pell Have the Point Designated as a Historic District 
Eleanor Weaver worked with Senator Pell to have the Point Designated as a historic district. At this time the Point was being threatened with the construction of the bridge, the redevelopment efforts to the South and the fact that the southern section of the Point next to Hunter House was zoned commercial. The National Parks Service had just completed their survey of Newport, but given the pressing issues facing the Point and the impassioned plea, The Point was designated as an historic district in 1969.  The Point Association's Archives contains the following correspondences:
Senator Pell to Eleanor Weaver April 24, 1968 and May 3
Eleanor Weaver to Senator Pell May 6, 1968
Senator Pell to Eleanor Weaver May 8, 1968
Eleanor Weaver-Natonal Park Service
Senator Pell letter to Eleanor after designation achieved
The next few pages will tell you more about our unique neighborhood:
Gallery of the Historic Homes of the Point